Pros: The exterior styling of the 2015 Kia Rio is unanimously praised. It is solidly built with quality fit and finish. As is often the case with South-Korean vehicles, the Rio comes with equipment that is not usually present in this type of vehicle. In addition, the interior is surprisingly spacious for such a small vehicle. To top it all off, it is reasonably priced, and lives up to the fuel economy expectations of its category.
Cons: The 2015 Kia Rio is equipped with a firm suspension that is likely to make excursions on less than perfect roads somewhat disagreeable, while offering exceptional road handling characteristics on smoother road surfaces. Its engine is a bit on the rough side when compared to its Japanese competitors.
2015 Kia Rio Price: Kia markets the 2015 Rio in two versions: Sedan and 5-door hatchback. The sedan is available in four versions: LX, LX+, EX and SX. The LX manual is priced at $14,095, the LX+ is offered in manual version at $15 695, and automatic at $16,995; the EX automatic is listed at $18,195, while the automatic SX is priced at $20,195.
As for the 5-door Rio, prices are: $14,495 for the LX; $16,095 for the manual LX+ while the automatic LX+ starts at $17,395; the automatic EX starts at $18,595; while the manual SX starts at $19,295 and the automatic version starts at $20,595.
2015 Kia Rio Fuel Economy: Whether you choose sedan or coupe, the fuel economy rating for the Kia Rio is an estimated: 8.7/6.4 L/100 km manual transmission, 8.8/6.3 automatic transmission, and 8.5/6.3 in Eco mode.
Improvements and Changes: The Kia Rio has not undergone any significant change for 2015.
2015 Kia Rio Powertrain: The only available engine option for the 2015 Kia Rio is a 1.6 litre all-aluminum direct-injection 4-cylinder engine that produces 138 hp. This engine is mated to either a 6-speed manual or Sportmatic automatic transmission.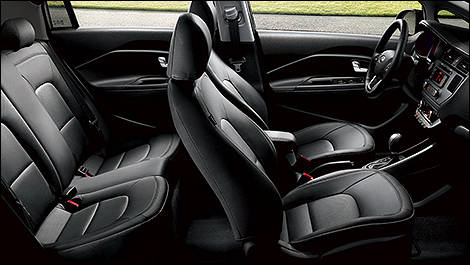 Cargo Capacity: If the Rio sedan is your vehicle of choice, you will benefit from 387 litres of cargo capacity in its trunk. If you choose the Rio 5-door, the cargo capacity varies from 425 litres with the rear seat back raised to 1,410 with the rear seat back lowered.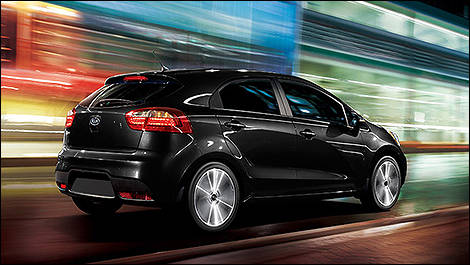 Safety: Safety features in the 2015 Kia Rio include ABS brakes, electronic braking assistance, electronic brake force distribution, electronic stability control, launch control, automatic headlights and hill assist.
Comparing the 2015 Kia Rio: Comparable vehicles in the subcompact category include the Honda Fit, the Ford Fiesta, the Hyundai Accent, the Mazda2, the Nissan Versa, the Scion xD and the Toyota Yaris.