Pros:
The 2015 Kia Sorento is a sharp-looking midsize CUV with more class and refinement than its logo or base price suggests. It boasts a smooth, powerful V6 engine, and displays good manners on the road. Oh, and Kia's UVO infotainment system is pretty slick, too. A great pick for families, with plenty of value and available 7-passenger flexibility.
Cons:
On the other hand, the front seats lack padding and the available third-row bench is tight and eats up trunk space. Some will say fuel economy and towing capacity could be better.
2015 Kia Sorento Price:
Buyers have a choice of four models including LX at $26,995, LX-V6 at $29,795, EX at $34,495, and SX at $40,895.
2015 Kia Sorento Fuel Economy:
Based on Natural Resources Canada's new 5-cycle testing procedure to determine fuel consumption ratings, expect to burn 11.8/8.5L/100km (city/highway) with the 4-cylinder engine, and 12.9/9.5L with the V6. When selecting all-wheel drive, these ratings jump to 12.3/9.3L and 13.4/9.9L, respectively.
Improvements and Changes:
Last year the Sorento received an extensive makeover inside and under the hood. For 2015, the Sorento continues with only a few minor improvements designed to make it even more appealing to tech- and fashion-conscious buyers.
The front grille is somewhat different, with either an anodized silver metal or black mesh appearance. The lower bumper also has been opened up and gets a cross-hatched intake, while the lights have all been tweaked. For 2015, enhancements to the 4-cylinder engine provide greater fuel efficiency.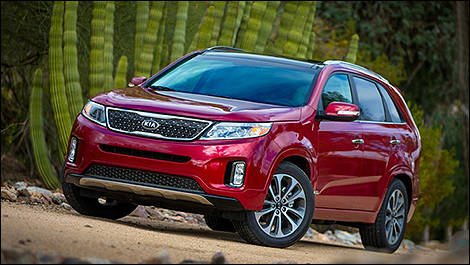 2015 Kia Sorento Powertrain:
The 2015 Sorento is offered with an all-aluminum 3.3L GDI V6, which produces a creamy 290 horsepower at 6,400 rpm and a stout 252 lb-ft of torque at 5,200 rpm, as well as a thrifty 2.4L GDI 4-cylinder engine producing 191 horsepower at 6,300 rpm and 181 lb-ft of torque at 4,250 rpm.
Power is routed to either the front wheels or, optionally, to all four wheels using an enhanced Torque On Demand all-wheel drive system that seamlessly directs power to the tire with the most traction and now includes Torque Vectoring Cornering Control (TVCC) for added stability under certain driving conditions. A well-sorted 6-speed automatic transmission with manual mode completes the equation.
Cargo Capacity:
The Sorento's trunk can hold up to 1,046 litres of gear in 5-passenger configuration, but just 257 litres in 7-passenger configuration. These numbers increase to 2,051 litres when you fold all the rear seats down.
Safety:
The 2015 Kia Sorento comes standard with six airbags, ABS, brake assist, electronic brake force distribution, hill assist control, traction control, and stability control with rollover mitigation. There's also a back-up warning system that you can complement with a rearview camera.
Comparing the 2015 Kia Sorento:
In this segment, you'll also find the Ford Edge, Hyundai Santa Fe, Dodge Journey, Toyota Highlander, Nissan Murano.