Last week, Kia released the first official sketch of its third-generation Sorento; today, we have our first look at the redesigned interior.
Kia says the cabin of the new Sorento will raise the bar in terms of luxury thanks to a modern, wraparound dashboard design, premium soft-touch materials and a host of cutting-edge technologies. These upgrades aim to provide occupants with a unique driving experience.
The interior design team, based in Frankfurt, Germany, drew inspiration from Swiss watches to create the layout. Highlights include a greater focus on premium materials such as leather, and the latest generation of Kia's human-machine interface (HMI) featuring a large infotainment display in the middle of the dashboard. The cockpit is also wider and roomier.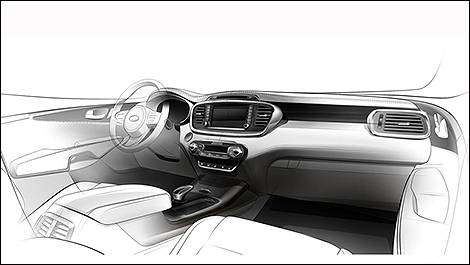 The all-new Kia Sorento will make its global debut at the Korean Auto Show later this month before appearing in Paris on October 2nd.
Source: Kia